The Ragai Ibrahim prize will be awarded every two years to an active graduate student or a postdoctoral fellow (who obtained a PhD in less than 5 years) who has co-authored during his/her doctoral studies a particularly relevant original scientific article (full paper or communication) in the broad field of polyphenol research, published in a journal with a good to high impact factor, reflecting his/her researcher qualities.
The applicant must be presented by his/her supervisor who is expected to provide a recommendation letter along with a short CV of the candidate and a copy of the article.
Thanks to a generous donation from Ragaï Ibrahim, Emeritus Professor at the University of Concordia, Montréal, Canada, and member of our society since 1980, the Groupe Polyphenols has awarded the first, second, and third GP Ragaï Ibrahim prize, in 2012, 2014, and 2016, respectively.
The third GP Ragaï Ibrahim prize has been awarded at the occasion of the 28th International Conference on Polyphenols in Vienna, Austria, in July 2016.
Dr. Thibaut BO
NTPART has beeen awarded for the following publication:
Thibaut Bontpart, Véronique Cheynier, Agnès Ageorges, and Nancy Terrier. BAHD or SCPL acyltransferase? What a dilemma  for acylation in the world of plant phenolic compounds. New Phytologist,  208, 695-707, 2015.
The second GP Ragaï Ibrahim prize has been awarded at the occasion of the 27th International Conference on Polyphenols in Nagoya, Japan, in September 2014.
Dr. Tsukasa HIROKANE has beeen awarded for the following publication:
Tsukasa Hirokane, Yasuaki Hirata, Takayuki Ishimoto, Kentaro Nishii, Hidetoshi Yamada. A unified strategy for the synthesis of highly oxygenated diaryl ethers featured in ellagitannins. NATURE COMMUNICATIONS, 5, 3478, 2014.
Publication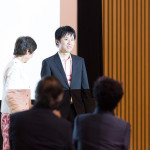 Dr. Emilie PETIT has been nominated for the following publication:
Emilie Petit, Dorothée Lefeuvre, Rémi Jacquet, Laurent Pouységu, Denis Deffieux, Stéphane Quideau. Remarkable Biomimetic Chemoselective Aerobic Oxidation of Flavano-Ellagitannins Found in Oak-Aged Wine. Angew. Chem. Int. Ed. 52, 11530 –11533, 2013.
Publication
The first GP Ragaï Ibrahim prize has been awarded to Dr Joana DA SILVA OLIVEIRA at the occasion of the 26th International Conference on Polyphenols in July 2012 in Florence, Italy, for the following publication
Joana Oliveira,Vesselin Petrov, A. Jorge Parola, Fernando Pina, Joana Azevedo, Natercia Teixeira, Natercia F. Bras, Pedro A. Fernandes, Nuno Mateus, Maria Joao Ramos, Victor de Freitas. Chemical Behavior of Methylpyranomalvidin-3-O-glucoside in Aqueous Solution Studied by NMR and UV-Visible Spectroscopy. J. Phys Chem B, 115, 6, 1538-1545, 2011.
Publication